Site maintained by Circle Secretary Com. M. Gopinathan , mobile - 9486104466 , email - gopisnea@yahoo.co.in
You are Visitor Number: 838739
Last Updated on 22/09/2014 - 05:52 PM
22-09-2014
DE Regular Promotion order issued for 112 more Executives - View Order
DE Regular Promotion order issued for 2 more Executives - View Order
22-09-2014

Indefinite Fasting at CHQ

22-09-2014 GS Writes to CMD regarding JAO to AO Promotion
Click here to view letter
22-09-2014 DE Regular Promotion order - Corrigendum- View Order


22-09-2014

Indefinite hunger strike by GS and AGS at BSNL CO started.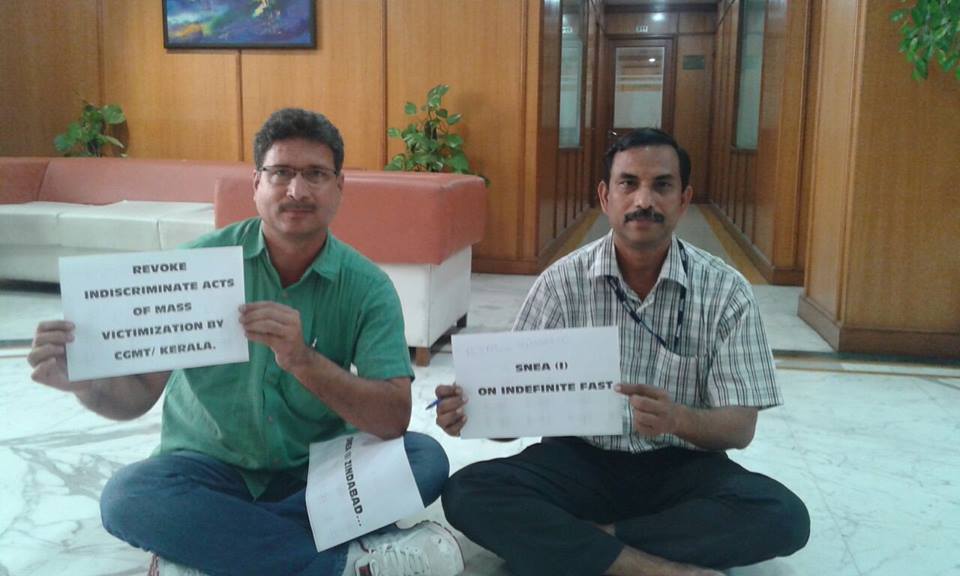 Indefinite hunger strike by CS KRL, CHQ Tresurer & AGS started at Circle Office Tiruvanathpuram.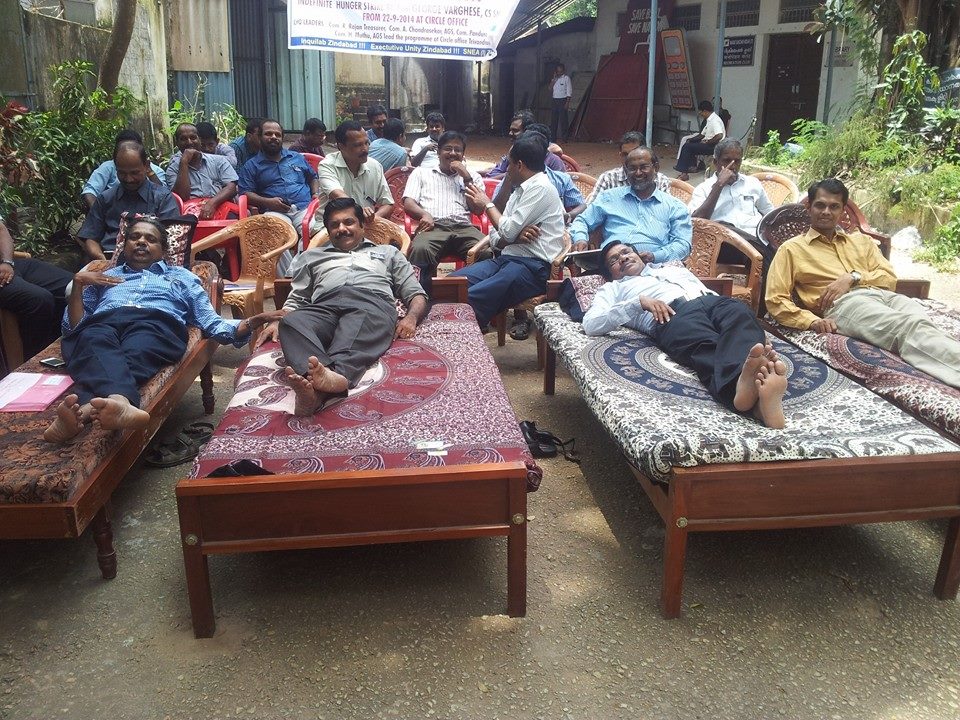 21-09-2014
Com.M.Gopinathan.,CS/TN will be available at
CHQ / DELHI from 22-09-14.,
for Organizational Activities...



- CS/TN.
21-09-2014

Indefinite Hunger strike by CHQ leaders at corporate office and CHQ Treasurer, Three AGSs from CHQ and Circle Leaders at Kerala circle office w.e.f 22-09-2014

Demands

· Stop vindictive action by the Administration.

· Honour the commitments.

· WIthdraw all charge sheet, diesnon, vindictive transfers etc.

Click to view details.
20-09-2014

JTO to SDE Promotion (67% Seniority Quota)...

Due to the Consistent & Persistent efforts of our CHQ,
the vacancies pertaining to 2012-13 and 2013-14 are
also included in the ensuing JTO to SDE Promotion by
the Management and ACRs for further 2 years have
been called for by the Pers.Section/Corporate Office.

All the DSs are requested to send the same immediately
to Staff Section,TN Circle with required details in Proforma.
This may be done on WAR FOOTING basis, Since the Ernakulam
Court case filed by some Miscreants to stop the entire process
is coming on 09-10-14.

Our SNEA(I)/Kerala Comrades are fighting the Case like
any thing to get the Stay Vacated.

So,SNEA(I),TN Circle requests all our DSs to act FAST
and send the ACRs as quick as possible....



- CS/TN.

CLICK HERE TO VIEW THE ORDER...

20-09-2014
19-09-2014
View Photos of Day long protest Dharna on 19-09-2014
SNEA(I),TN Circle request all Executives to join ENMASS in the Ensuing Programmes to Strengthen the agitation, so that SNEA(I) can attain the logical conclusion of agitation
SNEA(I) ZINDABAD!

20-09-2014

CHQ NEWS...JAO to AO promotion...

SNEA(I) strongly protests against the arbitrary move

of the Management to fill up few AO posts, keeping aside

large no of AO vacancies

Unfilled

. According to the proposal,

the JAOs of 2003 and 2004 year only will be considered for

promotion now, where as more than 1800 vacancies are very much available. SNEA(I) strongly demands that all the 1800
plus AO vacancies are to be filled up immediately with
eligible JAOs as on Date,and We have taken up the case
very strongly.At the same time,SNEA(I),TN Circle will not
criticize any body Unnecessarily and We are always
committed to complete our Task with our fullest
DEDICATION and We will be only
DEFENSIVE not OFFENSIVE.


- CS/TN.
19-09-2014
JAO to AO PROMOTION...



Since We had lot of Inquiries from our JAO
Comrades late in the evening ,Our Stand &

Upto date NEWS in this regard will be

available in sneaindia.com & sneatn.com
Tomorrow...All of our JAO Comrades
are requested to go through for ready reference...


- CS/TN.

19-09-2014

MASS DHARNA GRAND SUCCESS....




Today,a great Mass Dharna was conducted through out

TAMIL NADU CIRCLE in front of all SSAs & CIRCLE Hqrs.

We sincerely thank each one of the Comrades

who participated and made it a Historic one...

DETAILS,WITH PHOTOS WILL BE UPLOADED SOON....




- CS/TN.
18-09-2014


Dear Comrades...
SNEA(I),TN Circle requested CS/AIBSNLOA to participate in our
ONE DAY DHARNA on 19-09-14 and
he gave his consent.Also,we requested
him to extend support through out
TN Circle since all our DEMANDS are common to all Executives...
- CS/TN.

17-09-2014

An appeal from the basic member of SNEA(I) / CRDA District Branch / TN Circle to AIBSNLEA.
Off late,it is found that the practice of publishing the request of members of Other Executive association members in their own site and writing letters to Corporate office as if they belong to their Association,came to the knowledge of SNEA(I),TN Circle.
By publishing this type of requests without the consent of the concerned may hurt the feeling of basic members and also the credibility of them before others.
Nowadays, this kind of TACTICS & CHEAP canvassing is happening especially in kumbakonam SSA alone and it is being spread out by some miscreants all over Tamilnadu circle.
Since it is brought to our notice by one of our Senior Lady Comrade of CRDA Divn.,We are constrained to publish the letter addressed to the Undersigned Which is self explanatory and We are expecting the same should not happen in future by following TRUE, BASIC TRADE UNION ETHICS...
- CS/TN.
Click here to view old messages